Knowing how to clean washing machines will protect the appliance as well as your clothes. If you've been dealing with a smelly washing machine or one that leaves odors on your clothing, these steps will help, too.
Washing Machines Need Regular Cleaning
Doesn't it seem like a machine that's regularly filled with hot, soapy water ought to clean itself in the process? Unfortunately, nothing could be further from the truth.
Cleaning Fixes Washing Machine Odors
During the laundry cycle, all the soil, body oils, and other grime on your clothes get sloshed around inside your washing machine. Although the wash and rinse cycles may get these off of your clothes, the oils along with excess detergent can build up inside your machine.
A sign that your washing machine needs cleaning — besides being stinky — is that grimy ring at the top of the drum in top-loaders or around the door gasket in front-loading machines.
Cleaning Kills Mildew and Germs, Too
These days, many people use cold water exclusively when doing the laundry. Colder temperatures definitely help clothes look new longer, and helps keep them from shrinking.
Not all detergents perform well in cold water, though. Some require heat to activate their dirt- and stain-fighting ingredients that encapsulate and remove grime from your clothes. If you use such a detergent with cold water, it will leave behind a residue on your clothes as well as inside your machine.
Coldwater detergents, on the other hand, are specifically formulated with enzymes that work in temperatures as low as 60°F. A detergent of this sort will remove soil and body oils from your clothing in a cold wash but it won't kill mildew spores or germs remaining in your machine.
Over time, your washing machine's internal parts can develop a grimy layer of soap residue, body oils, mildew spores, and bacteria. That's why it's important to clean your washing machine at least once a month. Fortunately, it's a fairly easy task to do.
Cleaning Top Loading Washing Machines
To get your top-loading washing machine clean, work on the interior first. Once the inside of your machine is free of grime, move on to cleaning the exterior.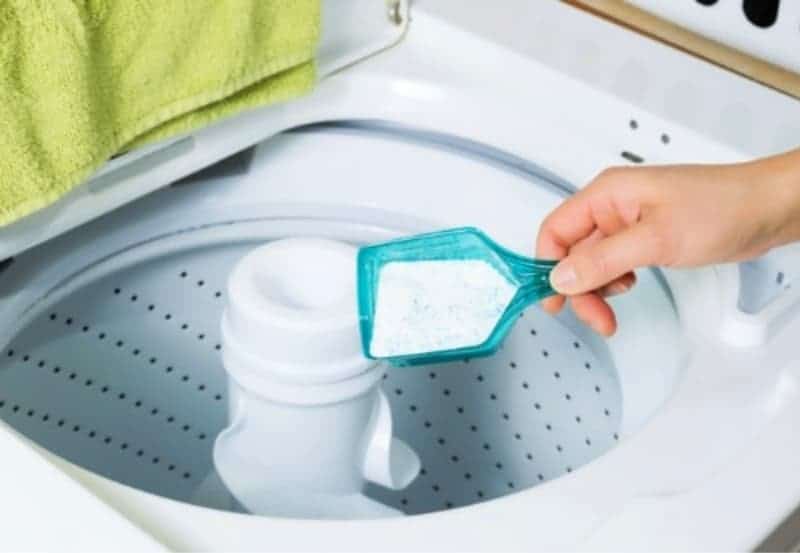 You will need:
Microfiber cleaning cloths
Soft-bristled scrub brush (an old toothbrush works great)
Hot water
Access to a nearby sink
White vinegar
Clean the lid: Open the lid and spray it, then use a soft brush to remove any caked-on detergent or grime. Be sure to get the hinges, too. Wipe the lid with a clean, damp microfiber cloth.
Clean the gasket: Using a cloth dipped in hot water (or a Magic Eraser) go around the hard rubber gasket at the top of the tub barrel. Scrub until you've removed any build-up and then wipe it with a clean, wet cloth.
Scrub the dispensers: Remove the bleach/fabric softener dispensers and wash them in a sink of hot water using an old toothbrush to clean mildew and grime out of the corners. Rinse the dispensers well and let them air dry.
Clean the dispenser area: The space where the dispensers usually go can get pretty grimy. While the dispensers are drying, clean this spot with a damp microfiber cloth. Use the scrub brush as needed to remove any residue and wipe the area with a clean, damp cloth when you're done.
Reassemble: Once the dispensers are dry, reinstall them in the machine.
Sanitize: Run the wash cycle on the hottest water setting using the highest water level. Add 2 cups of white vinegar as the tub fills but do not add detergent or any other laundry product. Allow the full cycle to run then open the lid to let your washing machine air dry.
Cleaning Front-Loading Washing Machines
Front-loading washing machines are typically high-efficiency, which means they use less water to wash clothes than a top-loader.
Why High-Efficiency (HE) Washers Smell Bad
Using a detergent that's not specifically designed for HE machines means that not all of the soap and other residue gets rinsed away during the laundry cycle. This grime builds up, traps bacteria, and produces a horrible smell.
Even if you're good about using a detergent specifically formulated for use in high-efficiency machines, your machine can still develop odors. If you keep your washer's door closed between loads to protect kids or pets (or just to keep it out of the way), it's likely that mold and mildew is growing in your machine's internals.
A thorough cleaning will take care of all that.
Steps to Clean Your HE Machine
You will need:
A bucket
Microfiber cleaning cloths
A soft-bristled scrub brush (an old toothbrush works great)
Several towels
White vinegar
Protect your floor: Place a towel or two on the floor in front of your machine to protect your knees as well as the floor. Open the door of your front-loader.
Make a cleaning mix: Add 2 quarts of hot water and 1 cup of white vinegar to the bucket. Place it on the towel in front of your machine. You do not need to add any soap. Do NOT add essential oils, since you'll be using this mixture to clean areas they might damage.
Clean the rubber seal: Dip the soft-bristled brush into the water and clean the rubber gaskets inside the door. (The vinegar will help loosen soap residue and also kill mildew spores.)
Clean the gasket grooves: Using your fingers very gently, expand the gasket so you can scrub inside its grooves. Also clean the space where it usually rests against the machine door. Dip a cloth into the hot water and wipe these areas after scrubbing them.
Clean the dispensers: Remove the soap and fabric softener dispensers and wash them in a sink with hot water. Use the scrub brush to loosen any grime. Rinse the dispensers well and let them air dry.
Clean their spot: Dip a clean cloth into the hot water and use this to wipe the area where the soap and fabric softener dispensers usually go. If needed, you can use the old toothbrush to loosen grime. Once this space is clean, wipe it with another clean, damp cloth.
Reassemble: Put the dispensers back in place.
Sanitize: Fill the detergent dispenser with white vinegar. Do not add additional detergent or fabric softener at this time. Run the machine using the hottest setting (usually "sanitize") or the self-cleaning cycle if it has one.
Dry: When the cycle ends, immediately open the machine and wipe it dry with several clean, dry cloths. Leave the door open while you clean the exterior.
Clean Your Washing Machine's Exterior
Dry-wipe it: Cleaning the exterior of your washing machine is a lot easier if you first wipe it with a dry microfiber cloth to remove any lint.
Clean spots: Next, spray the exterior with an all-purpose cleaner and wipe it again. Use a toothbrush to loosen any dried-on spots of detergent or fabric softener.
Clean the backside: If you are physically able to do so, pull the machine out from the wall so you can clean its back and sides, too. (This is also a good time to mop the floor beneath the machine!)
Inspect hoses: Check your washing machine's hoses while you're cleaning it. Look for signs of fraying or corrosion near the spigot. If you find either, promptly replace your hoses! A burst washing machine hose can dump several hundred gallons of water onto your floor, leading to significant damage and costly repairs.
Keep Your Washing Machine Odor-Free
Clean your washing machine following the steps above at least once a month. In between deeper-cleanings, you can keep your washing machine odor-free with a few simple steps.
Use the right detergent. If you prefer laundering with cold water, choose a detergent designed to perform well at colder temperatures. If you have a high-efficiency washer, make sure the detergent is also designed for HE machines.
Use the proper amount of detergent. Detergent pods make measuring simple — just toss one into the machine. If you prefer liquid detergent, be sure to measure it since using too much leads to build-up, which means your clothes won't get cleaned properly, either.
Consider ditching the fabric softener. While both liquid softeners and dryer sheets help eliminate static cling, they do so by lightly coating your clothes with a petroleum-based surfactant. That same coating can build up in your machine, trapping odors and grime. Consider using vinegar as a laundry softener — but first, check your machine's manual to see if affects the warranty.
Wash one hot load per week. Washing a load of towels or underwear using the hot water wash and rinse cycle will help remove detergent buildup and kill the organisms that make washers smell bad.
Let the machine dry. On laundry day, leave your machine's door open for at least an hour, so the inside has a chance to fully dry. If can't leave the door open because your pets or kids might climb into the machine, at least wipe the inside dry with an absorbent towel after use.
Note: This article first appeared on March 8, 2012. It has been revised and updated for republication.
Read Next: