This practical, easy guide explains how to clean your mattress to get rid of stains, odors, and allergens then keep it looking new.
Knowing how to clean a mattress can help you sleep better at night. That's especially true if you have allergies or asthma since a dirty mattress is full of all sorts of things that can make your symptoms worse.
Why You Should Clean Your Mattress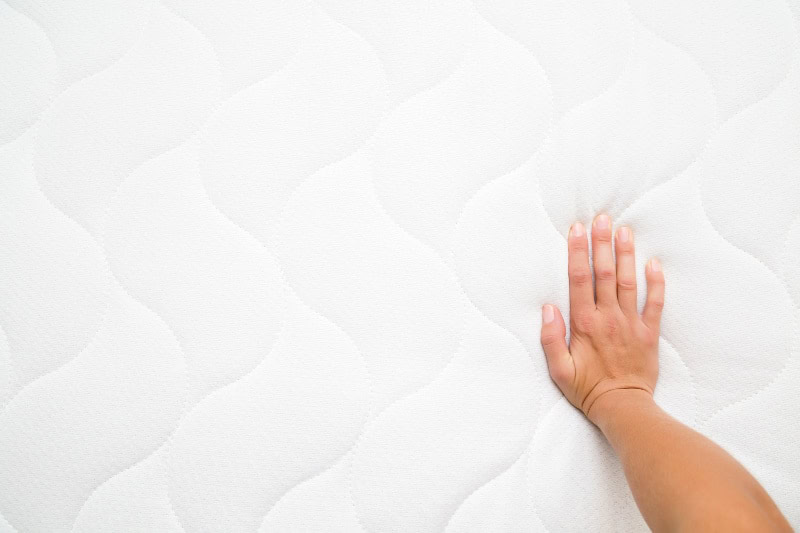 Dead Skin Cells and Dust Mites
Of the estimated 1.6 trillion skin cells on our bodies, roughly 30,000 to 40,000 of them fall off every hour. Multiply that by the eight hours we're supposed to get, and we're shedding around a quarter-million dead skin cells in our sleep.
Sure, your sheets catch most of the skin cells. What they don't protect your mattress from are the dust mites that feed on those dead skin cells. And, there are hundreds of thousands of those dust mites in your bed.
Or, Glen Needham, a retired professor of entomology at Ohio State University, says, "Every mattress is a crime scene in terms of how it gets inoculated with mites."
Moisture, Mold, and Mildew
When you sleep, your body loses moisture. Some of that is simply the result of breathing. Some of it is also sweat.
If you're a person who "sleeps hot" or who suffers from hot flashes or night sweats, you know how damp your bedding and mattress can get. Combine the two, and your body produces over a pound of moisture each night!
While much of that evaporates in the air, plenty soaks into your mattress. There, the dense materials and warm, dark environment provide the perfect breeding ground for mold and mildew spores.
Pets, Kids, and Other Messes
If you have young children, the chances are good their mattress has urine stains. Even house-trained pets can leave your mattress damp if they spend much time licking their paws or hop on your bed right after a bath. And, of course, full-grown adults can soil a mattress several ways, too.
So, you can put up with a stained mattress that stinks of sweat and body oils, or you can set aside an afternoon to deep clean your mattress and get it looking — and smelling — new again.
How to Clean Your Mattress
You need to strip the bed before you begin cleaning your mattress, so this is a good time to launder your bed linens, too.
Using the hottest setting allowed on the manufacturer's label will kill dust mites on your sheets and blankets. (Related: How to Wash Electric Blankets.)
Go ahead and wash your pillows and fabric mattress toppers. (Related: How to Wash Pillows)
While the washer and dryer are doing their thing, follow the steps below to clean your mattress and get rid of stains, odors, and allergens.
1. Vacuum the Top and Sides
Your vacuum cleaner's upholstery attachment is the best tool for mattress cleaning. Start at the top and work your way down in overlapping, narrow paths. Vacuum the sides the same way. Don't worry about the other side of the mattress just yet — we'll get there in step 5.
2. Remove Odors with Baking Soda
Sprinkle your mattress well with plain baking soda (bicarb for UK readers) and gently rub it in, so it bonds with surface moisture. Let it sit for 10 minutes to continue neutralizing odors.
Don't use essential oils to clean your mattress. First, essential oils are still oils. Rubbing them into fabric attracts dirt, which can become a permanent stain. Also, by the time you've vacuumed and covered your mattress to protect it, you won't smell the essential oil — so why bother?
3. Vacuum Again
After giving the baking soda time to bond with surface moisture and odors, use your vacuum's upholstery attachment to remove it. Again, use overlapping strokes and don't press too hard — it interferes with your vacuum's suction and may snag your bed's fabric.
4. How to Remove Mattress Stains
Mattresses typically acquire three types of stains: blood, urine, and what we'll call "other bodily fluids." While it's best to treat stains immediately, sometimes sleep is more important. Fortunately, you can still clean stains on your mattress even after they've been there a while.
What About Using a Steam Cleaner?
If you've ever used a steam cleaner or carpet shampooer, you know they don't fully extract moisture. Your mattress is basically a big, thick sponge. Using a steam cleaner to push water into a big, thick sponge eventually leads to mold and mildew problems.
So, take the time and use the mattress stain remover methods below by hand. It'll be worth it when your mattress looks and smells new again.
Mattress Blood Stain Removal
Bloodstains can be tricky. The key is avoiding methods that rely on heat, which causes proteins in the blood to bond permanently with fabric.
To remove fresh blood stains from your mattress, liquid dish soap and cold water are usually enough. Remove any remaining brown tinge by wiping it with a clean cloth dipped in hydrogen peroxide.
For dried blood stains on mattresses, combine 2 ounces of hydrogen peroxide, 1 tablespoon liquid dish soap, and 1 tablespoon of table salt. Lightly spread this mixture on the mattress bloodstain and wait 10 minutes, then scrape it away with a spoon. Use a white rag dipped in hydrogen peroxide to remove any residue and let the area dry then vacuum.
If any discoloration remains, dab it with plain household ammonia and a white cloth. Be sure to open your windows first, because its vapors are irritating. Once the stain is gone, sprinkle the area with baking soda to neutralize the odor, let it dry completely, and then vacuum the spot.
Urine Stains on Mattresses
Pets, kids, and even some adults occasionally have "accidents," leading to urine stains on mattresses.
To remove fresh urine from a mattress, blot with a clean, dry towel. Sprinkle the spot with baking soda (bicarbonate in the UK) to neutralize the smell and pull additional moisture out of the mattress fabric. Let this dry for 20-30 minutes, then vacuum.
To get dried urine stains out of a mattress, combine 3 tablespoons of baking soda, 8 ounces of 3% hydrogen peroxide, and a tiny amount of liquid dish soap in a bowl. Use a white rag to dab this on the old urine stain. (Don't drench it!) Switch to a fresh cloth and blot the area to lift the stain. Rotate your rag while doing this, so you're always working with a clean section. Let it dry before making your bed.
Vomit, Wine and Other Mattress Stains
Both vomit and wine are acidic, so they're tougher stains to get out of your mattress. "Mystery" stains can be difficult, too. If cold, soapy water and a rag don't get the area clean, try making a homemade dry-cleaning foam (not a paste) using the method below.
Whisk 2 tablespoons of powdered laundry detergent (white, no crystals) with 1 tablespoon of water to create a dry foam. Spread this on the stain, wait 10 minutes, and scrape it away. Use a cloth dampened with hydrogen peroxide to remove any residue, let the area dry completely, then vacuum it thoroughly.
5. Flip and Repeat
If you have the type of mattress that can be flipped for even wear, make sure any areas you've treated for stains have completely dried, then turn your mattress over. Repeat the steps above after you've flipped it, so your entire bed is fresh and stain-free.
Keep Your Mattress Looking New
You can protect your mattress from stains, mold, and other allergens by using a washable mattress cover. I'm not talking about the crinkly, plastic kind you might remember from childhood.
These days, mattress covers are made from fabric bonded to a waterproof layer that keeps liquids and allergens from reaching your mattress. Here's the one I use.
Place the mattress cover directly over your mattress but beneath foam or pillow toppers if you use them, and wash it monthly to keep your bed smelling fresh.
Now that you've read this, grab one of my books!