Knowing how to clean a mattress can help you sleep better at night. This guide explains how to clean your mattress and get rid of stains, odors, and allergens. It also covers how to protect your mattress, so it stays clean and fresh.
Why You Should Clean Your Mattress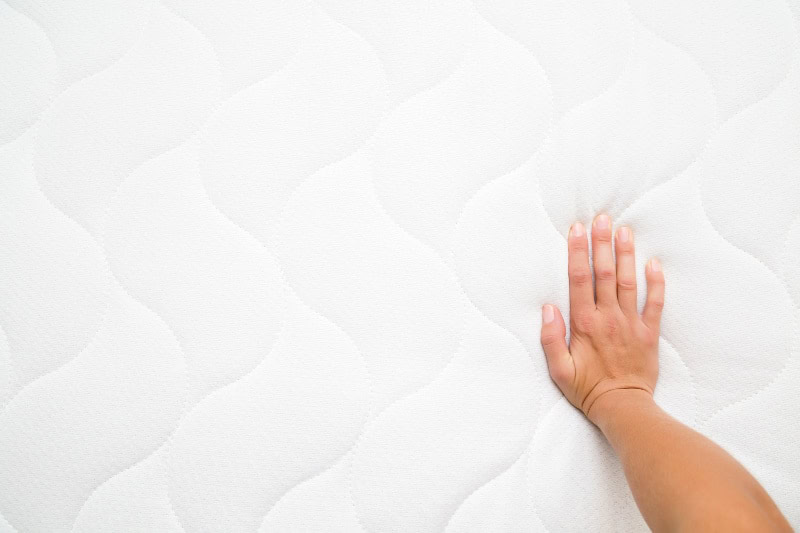 Dead Skin Cells and Dust Mites
Of the estimated 1.6 trillion skin cells on our bodies, roughly 30,000 to 40,000 of them fall off every hour. Multiply that by the eight hours we're supposed to get, and we're shedding around a quarter-million dead skin cells in our sleep.
Sure, your sheets catch most of the skin cells. What they don't protect your mattress from are the dust mites that feed on those dead skin cells. And, there are hundreds of thousands of those dust mites in your bed.
Or, Glen Needham, a retired professor of entomology at Ohio State University, says, "Every mattress is a crime scene in terms of how it gets inoculated with mites."
Moisture, Mold, and Mildew
When we sleep, our bodies lose moisture. Some of that is simply the result of us breathing. Some of it is also sweat.
If you're a person who "sleeps hot" or who suffers from hot flashes or night sweats, you know how damp your bedding and mattress can get. Combine the two, and our bodies produce over a pound of moisture each night!
While much of that evaporates in the air, plenty soaks into your mattress. There, the dense materials and warm, dark environment provide the perfect breeding ground for mold and mildew spores.
Pets, Kids, and Other Messes
If you have young children, the chances are that at least one mattress in your home bears the results of a nighttime accident. Even house-trained pets can leave your mattress damp if they spend much time licking their paws or hop on your bed right after a bath. And, of course, full-grown adults can soil a mattress several ways, too.
So, you can put up with a stained mattress that stinks of sweat and body oils, or you can set aside an afternoon to deep clean your mattress and get it looking — and smelling — new again.
How to Clean Your Mattress
You need to strip the bed before you begin cleaning your mattress, so this is a good time to launder your bed linens, too.
Using the hottest setting allowed on the manufacturer's label will kill dust mites on your sheets and blankets.
Go ahead and wash your pillows and fabric mattress toppers.
You can even wash an electric blanket if you use one.
While the washer and dryer are doing their thing, follow the steps below to clean your mattress.
1. Vacuum the Top and Sides
Your vacuum cleaner's upholstery attachment is the best tool for mattress cleaning. Start at the top and work your way down in overlapping, narrow paths.
Vacuum the sides the same way. Don't worry about the other side of the mattress just yet — we'll get there in step 5. For now, we're clearing away dead skin cells, pet hair, and surface dirt to make the next step more effective.
2. Remove Odors with Baking Soda
Sprinkle your mattress well with plain baking soda (bicarb for UK readers) and gently rub it in, so it bonds with surface moisture. Let it sit for 10 minutes to continue neutralizing odors.
What about adding essential oils?
Several readers have asked about mixing essential oils with the baking powder before sprinkling it on their mattresses. I don't recommend it for a couple of reasons.
Essential oils are still oils. Rubbing any oil into a fabric is never a good idea — it attracts dirt and can make the bond between the material and soil permanent. That's pretty much the exact opposite of what we're trying to achieve when we clean a mattress.
It's a waste of time. By the time you've cleaned the mattress, removed stains, and protected it from future problems, you won't be able to smell the essential oil. So why bother?
3. Vacuum Again
After giving the baking soda time to bond with surface moisture and odors, it's time to vacuum it out of the mattress.
Using the upholstery attachment, vacuum the top and sides of the mattress with slow, overlapping strokes. Do not press too hard — it interferes with your vacuum's suction and may snag your bed's fabric.
4. How to Remove Mattress Stains
Mattresses typically acquire three types of stains: blood, urine, and what we'll call "other bodily fluids."
While it's best to treat stains immediately, sometimes sleep is more important. Fortunately, you can still clean stains on your mattress even after they've been there a while.
Blood Stains
You can often get fresh blood stains out of mattresses with just a rag, some cold water, and a little soap. For fresh blood stains, it's important to use cold water, since heat causes the proteins in blood to bond with the mattress material.
If cold water and a bit of soap didn't do the trick, use the dried blood remover for mattresses below.
Dried Blood Remover for Mattresses
Easy, effective homemade blood stain remover for mattresses.
Print Recipe
Ingredients
Hydrogen peroxide

1

tbsp.

liquid dish soap

1

tbsp.

table salt
Instructions
Combine 2 ounces of hydrogen peroxide with the dish soap and salt to form a paste.

Lightly spread the paste on the mattress stain and allow it to dry for about 10 minutes. Scrape off the residue using a rubber spatula or old credit card.

Dab away any remaining stain and paste with a white rag dampened with more hydrogen peroxide. (SEE NOTE) Rotate the cloth as the stain lifts.
Notes
It's important to use a white rag for this process, since dark or colorful rags may transfer their dye to your mattress as you're using the blood stain remover.
Urine Stains (Human and Pet)
Pets, kids, and even some adults occasionally have "accidents," leading to urine stains on mattresses.
For fresh urine messes on a mattress, blot the area with a clean, dry towel to remove excess moisture. Immediately sprinkle the spot with baking soda (bicarbonate in the UK) to neutralize the smell and pull additional moisture out of the fabric. Let this dry for 20-30 minutes, then vacuum.
For accidents in the middle of the night, you can lay a plastic garbage bag after applying the baking soda as directed above. Then put a sheet on top of that and go back to sleep. Be sure to strip the bed and vacuum the spot first thing in the morning.
Use the method below to get rid of older urine stains mattresses. The first version is usually enough and is safe for all types of mattresses, so you should start with it.
Urine Stain Remover for Mattresses
Total Time:
4
hours
2
minutes
This simple homemade mattress stain remover eliminates most urine stains.
Print Recipe
Equipment
White rags (See note)

Small bowl
Ingredients
3

tbsp.

baking soda

bicarb for UK readers

8

oz.

hydrogen peroxide

A tiny amount of liquid dish soap
Instructions
Combine all ingredients in a small bowl. Dab the mixture onto the stain using a white rag. Do not drench the mattress or pour the urine stain remover directly onto the surface!

Change to a fresh rag when the one you're using begins to look discolored from urine. Always work with a fresh section of the rag, so you aren't reapplying the mess.

Once the urine stain is gone, blot the area well with a clean cloth to remove excess moisture. Let it fully dry before making your bed. (About 4 hours.)
Notes
It is important to use white rags when removing stains, since dark or colorful ones may transfer their dyes to the item you're cleaning.
The method above usually gets rid of urine stains. If discoloration persists, you can try the method below but need to follow the directions about creating a foam precisely.
Also, do not use the method below for memory foam or latex mattresses.
Stubborn Urine Stain Remover
Total Time:
4
hours
10
minutes
Print Recipe
Equipment
A whisk

A bowl

White cleaning rags
Ingredients
2

tbsp.

powdered laundry detergent

it must be a white powder with no crystals

water

Hydrogen peroxide
Instructions
Whisk the powdered laundry detergent and 1 tablespoon of water to create a dry foam. You must use a whisk — not a spoon or fork. Add additional water drop by drop if needed until you've created a foam, not a paste.

Lightly spread the foam onto the stain and let it sit for 10 minutes then wipe it away using a white cloth dampened with hydrogen peroxide. Change rags as needed, so you're working with a clean one all the time and not merely spreading the foam around on your mattress.

Go over the area one more time with a clean white rag dampened with water. Let the spot dry fully (about 4 hours) and then vacuum it.
Notes
It is important to use white rags when removing stains, since dark or colorful ones may transfer their dyes to the item you're cleaning.
Vomit and Other Stubborn Mattress Stains
Blood and urine aren't the only types of stains our mattresses pick up. Bouts of stomach flu, chemotherapy, and many other circumstances can lead to vomit stains on mattresses.
And sometimes our mattresses acquire "mystery stains" that don't come up using any of the methods described above.
If any mattress stains remain after using any or all of the methods above, you'll need to use household ammonia.
This should never be your first treatment, though, because the smell of ammonia is so awful before it's neutralized that it can stink up your entire room for a full day.
So, you definitely want to close the bedroom door to keep the smell from stinking up the rest of your house but fully open all of the bedroom's windows. If you're fortunate enough to have an ensuite bathroom, run the exhaust fan while you're doing this, too.
Mattress Stain Remover for Vomit and Other Stubborn Stains
Total Time:
1
hour
5
minutes
Use this powerful homemade stain remover to get vomit and other difficult spots out of mattresses.
Print Recipe
Ingredients
Unscented

plain household ammonia

Baking soda

(bicarbonate for UK readers)
Instructions
Open the windows! Ammonia is very irritating to eyes and lungs, so you must have good ventilation.

Lightly dampen the corner of a white rag with ammonia. Use the damp corner to blot the stain. Do not drench the mattress or pour ammonia directly onto it — you're just applying enough ammonia to loosen the chemical bonds between the stain and fabric.

Blot the area with a fresh white rag dampened with water to lift the stain. Rotate the cloth, so you are continually using a clean spot to lift the stain out of the mattress. If the stain does not lift, wait 5 minutes, and try again.

Once the mattress stain is gone, wipe the entire area with a clean cloth lightly dampened with water.

Sprinkle the still-damp area with baking soda to neutralize the ammonia and pull out any remaining moisture. Let this completely dry (about an hour), then vacuum the spot using the upholstery attachment.
Notes
It is important to use white rags when removing stains, since dark or colorful ones may transfer their dyes to the item you're cleaning.
What About Using a Steam Cleaner?
If you've ever used a steam cleaner or carpet shampooer, you know they don't fully extract moisture.
Even the plushest carpet and pad is only about a half-inch thick, so any remaining dampness quickly wicks to the surface and dries. A mattress, on the other hand, at least a foot thick.
That means your mattress is basically a big, thick sponge. Using a steam cleaner to push water into a big, thick sponge eventually leads to mold and mildew problems. So, skip the steam cleaner and treat mattress stains using the methods I've described.
5. Flip and Repeat
Traditional innerspring and many memory foam or latex mattresses are meant to be flipped several times a year. This practice ensures even wear of the covering and also keeps the mattress from developing lumps and valleys that ruin your sleep (and back).
If yours is the type of mattress that should be flipped, let areas you've treated for stains dry fully. After flipping, repeat the steps above to finish cleaning your mattress.
Keep Your Mattress Looking New
Cleaning a mattress can easily take an entire afternoon. I don't know about you, but I can think of many other things I'd rather do with that time. Protect your mattress — and yourself — from needing to repeat this entire process by using a washable mattress cover.
I'm not talking about the crinkly, plastic kind you might remember from childhood. These days, mattress covers are made from fabric bonded to a waterproof layer that keeps liquids and allergens from reaching your mattress. Here's the one I use.
Place the mattress cover directly over your mattress but beneath a quilted mattress pad, if you use one. Launder immediately after any spills or illness. Otherwise, monthly laundering is usually sufficient — or weekly if you have severe allergies.